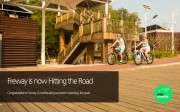 Alhambra, California, June 26, 2015 (Newswire.com) - Thanks to the ongoing support of all backers on Kickstarter, Freway has successfully reached the goal! And the actual amount now keeps increasing!
Within the past days, Freway heard lots of great suggestions and feedbacks from loyal backers, their voice helps Freway to keep optimizing the eBike.
Freway eBike equips with the innovative power system, named Freway Vigor System (FVS), which consists of the big 4.0 inch touch panel, one long-lasting battery pack, and one smart controller. With the high efficient FVS, the cycling range is up to 60 miles. Such a long cycling range is awesome for commuters. IP 67 certified battery pack ensures stable performance in both rainy and dirty road conditions. Advanced BMS is also applied to stabilize FVS on cycling.
Only premium bike parts are selected to create the Freway eBike. Most of them are from world-class manufacturers. Shimano speed system, high strength alloy frame and oil press disc brake, all those parts make Freway eBike outstanding. You will be attracted by its excellent performance for on-road and off-road riding conditions.
Most eBike currently are more than $1000 on market, however, Freway eBike now hits the road with the amazing $599 only. Does anyone could enjoy any eBikes at such a competitive price? Let alone 27-speed Shimano speed set or any other premium bike parts, just think of the price and the amazing cycling range.
The crazy price $599 is only available in a few days on Kickstarter, if any customers are interested, just go for it.
Meet Freway: http://www.ifreway.com
Crazy prices on Kickstarters:
https://www.kickstarter.com/projects/ifreway/freway27-speed-pedal-assist-smart-ebike-at-499
Share: